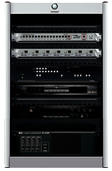 With the help of Intellihome, the seminar area and media room of your hotel, event centre or company will turn into a fully automatic world, trouble free.
The solution to link and control all necessary elements has a name:
INTELLIHOME BUSINESS MULTIMEDIA!
The whole technical operation is controlled from a touch-panel, remote control or switch-key. With just one touch and the intelligent technology behind you, you have everything under control.

AUDIO
A perfect sound made easy – a single push of a button and microphone and music are under control.
VIDEO & PRESENTATION
From input to output a perfect team.
The team members are: laptop, DVD-player and beamer.

ROOM-CLIMAT
Summer or winter outside – always the perfect working climate programmed inside.

LIGHTING
The desired brightness is controlled by dimming the lights and shutting the blinds.
Compact and uncomplicated
All technical elements can be put together in a compact 19" rack and find space in every room. The compact controller supports all standardized interfaces that are required for the communication with the terminal equipment (e.g. beamer, plasma or LCD).